Exhibition in Rovinj
In April 2022, I invite to the Dinner with the art project. The event took place in the old part of Rovinj, in the boutique hotel Spirito santo palazzo storico. The ambiance was wonderfully furnished, and a wonderful evening was promised. I chatted with the guests over a glass of sparkling wine, and pleasant music was heard in the background. I have exhibited seven large-format paintings I have created in the last three years. Two paintings were created just for this event: Rovinj 2072 and Into the light. The paintings perfectly fit into the ambiance that the owner Janez Bidovec and the architect have preserved in the image from 60 years ago. The whole evening was unique, as chef Denis Ibrišimović pampered us with his excellent cuisine.
News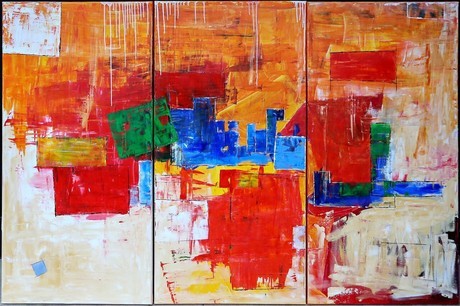 Exhibition in Maribor, Majski salon 2022
You are invited to the exhibition of Slovenian artists, which will be held on 13.5. at 19.00 at the Kibla Portal exhibition center in Maribor. The largest exhibition of members of the association MAJSKI SALON ZDSLU 2022, this year in cooperation with the gallery KIBLA PORTAL in Maribor. We cordially invite you to the opening of the tradi...
All news
The painting brought solar energy into our living room and brightened up the previously barren wall. We believe that throughout the year it will be a memory of summer and the sea, which we all love very much. Daughter, who loves to draw, has already used your elements in her drawings.
Family Škof
Awesome. Hot. Lots of things going through my head:)
Miha Šetina
"Impressive oil on canvas, bringing sunshine energy into our home" A big thank you and lots of success in the future, dear AnnMarie Sandra Penger
Sandra Penger
Hi AnnMarie! We love the painting!! It hangs in our bedroom and it looks beautiful We participated in a home tour earlier this summer where hundreds of people saw our home and we received many compliments!
Melissa Chamberlain
Painting represents inexhaustible source of inspiration...It's interesting, optimistic. It's inviting you to take a closer look...only then you discover the words that tell and mean a lot. Namely, the painting is hiding lots of words that you need to find precisely. Aleš Ravnikar Nepremičnine.net, CEO
Aleš Ravnikar
I like your painting, because it makes me drift away and calms me down while observing colours and lines.
Mojca Starec